Jennifer Lee, (also known as Nurse Lee or Jenny) is the protagonist of Call the Midwife. She is portrayed by Jessica Raine.
Overview
Edit
The character was based on the novelist of the memoir of the same name, Jennifer Worth. She lived in Nonnatus House while working as a midwife with the nuns and the other midwives, Trixie, Cynthia and Chummy.
At the end of Series 3, she left midwifery and Nonnatus House to pursue a career in hospice care.
Jenny trained and worked as a nurse before working at Nonnatus House as a midwife.
Working as a midwife
Edit
[to be added]
After Nonnatus House
Edit
After caring for Chummy's dying mother, Jenny decided she wanted to change careers and work with those at the end of their lives, and announced she would be leaving Nonnatus House and the midwifery behind to take up a position as a staff nurse at the Marie Curie Hospital in Hampstead. It was around this time that she met Philip Worth, her future husband who accompanied her as she cycled away from Nonnatus House for the last time.
Appearance
Edit
Jenny has brown short and curly hair. She wears a red sweater and a blue uniform. She often wears her signature red lipstick. 
Family and relations
Edit
Jenny's friends include fellow midwives Trixie, Cynthia, Chummy and Patsy. Plus, colleagues Dr. Patrick Turner and Shelagh Turner née Mannion, auxillary nurse Jane Sutton and caretaker Fred Buckle. She also works with the Nuns of Nonnatus House including Sister Evangelina, Sister Julienne, Sister Monica Joan and Sister Winifred.  
She also had a close friendship with her old friend and former love interest, Jimmy Wilson. 
She had a relationship with Jimmy's friend, Alec Jesmond, before he died after falling through an old staircase at his workplace.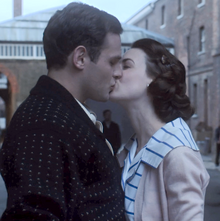 Some of her patients include Mary and Pearl Wilson.
Jenny's family is not mentioned within the series.
Jenny Lee, as portrayed by Jessica Raine, is around 20 years old.
Mature Jenny, as voiced and portrayed by Vanessa Redgrave, is around 70 years old.
Portrayed by
Edit
Jenny is portrayed by Jessica Raine. Jenny is also the show's elderly narrator, credited as "Mature Jenny," portrayed by Vanessa Redgrave.
Vanessa Redgrave appears as Jenny Lee (now Jenny Worth) in Christmas Special 2014, after Jessica Raine had left the show.
Mature Jenny:
Edit
(Opening narration) "I must have been mad. I could have been an air hostess. I could have been a model. I could have moved to Paris, or been a concert pianist. I could have seen the world, been brave, followed my heart. But I didn't. I sidestepped love and set off for the East End of London because I thought it would be easier. Madness was the only explanation."
Ad blocker interference detected!
Wikia is a free-to-use site that makes money from advertising. We have a modified experience for viewers using ad blockers

Wikia is not accessible if you've made further modifications. Remove the custom ad blocker rule(s) and the page will load as expected.