Jacob Milligan is a patient appearing in Series Three, Episode Five. He also has a minor part in Series Two, Episode Four. He is portrayed by Colin Young.
Overview
Edit
Jacob is a young man with cerebral palsy who lives at St. Gideons, an institution for special needs. He falls in love with Sally Harper, a young woman with Down's Syndrome, who also lives at the institution. It is later discovered, with great shock, that Sally is pregnant. She goes on to have a baby, who is sadly born premature and stillborn.
Jacob is chastised by Sally's family and the head of St. Gideons as having abused Sally; although the sex was consensual, the attitudes at the time towards the disabled and their sexuality were still uninformed.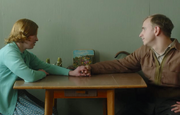 At the end of
S03E05
, he is moved to St. Mungo's, in Scotland. Sally doesn't get to see him until he is in a car, leaving.
Ad blocker interference detected!
Wikia is a free-to-use site that makes money from advertising. We have a modified experience for viewers using ad blockers

Wikia is not accessible if you've made further modifications. Remove the custom ad blocker rule(s) and the page will load as expected.